Solitaire - Battle


Created by Paso Clip
Produced by Moo Town Games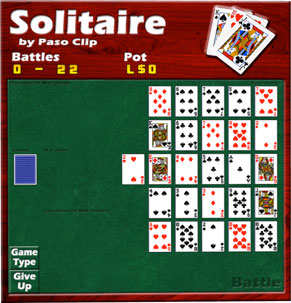 Battle is part of the Solitaire Suite For Second Life created by Paso Clip and produced by Moo Town Games. It was introduced into the suite as part of version 3.5.
Battle is a fast paced skill game which tests your memory. You are in command of an army of cards and must decide which cards your going to send to battle. If your card is higher than the one pulled from the deck, you win the battle, if its lower or the same as the one pulled from the deck, you lose. All cards that have been played and all of your cards are visible from the start of the game, allowing you to know what your enemy has in their army. Can you win the war?
Object Of The Game
To have your card selection be a higher rank reguardless of suit than the one pulled from the deck.
Ties are considered losses.
Aces are always high in this game.
Foundations
There are no foundations in Battle.
Army
(5 columns of 5 and 1 column of 1 on right of board)
Select the card you want to send to battle.

Stock
Cards from this pile automatically used when you select a card from the army.
There is no redeal. but there can be multiple wars (games).
More Details :
The opening tableau has six columns, five initially containing five cards, and one initially containing one card. Cards can not be moved, only sent to battle against the dealers card.
In Battle, the Ace is the highest rank card and can eliminate every other card except another Ace. A 2 is the lowest ranked card and cannot win a battle, use these cards to take out the enemy's aces and face cards.
The suits of the cards do not matter in this game.
Example:
| | | | | |
| --- | --- | --- | --- | --- |
| If your card is a Jack and the dealer card is a 9, you win the battle because a Jack is a higher rank than a 9. | | | | |
Example 2:
| | | | | |
| --- | --- | --- | --- | --- |
| If your card is a Ace and the dealer card is a Ace, you lose the battle because the cards are of the same rank. | | | | |
Example 3:
| | | | | |
| --- | --- | --- | --- | --- |
| If your card is a 3 and the dealer card is a 7, you lose the battle because the 7 is a higher rank than the 3. | | | | |