Mother Freak'n Zombies


Created by Kain Cleaver
Produced by KC Gaming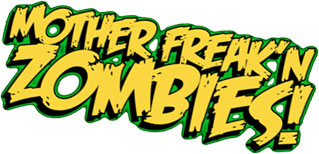 Your surrounded by zombies and your taking your final stand. Survive as long as you can by killing zombies and gaining as many points as you can
You start off with 6 clips of ammo (1 in the gun - 5 extras). Your ammo is displayed next to your score (ammo)/(score)
Click the ammo clip to reload. When you run out of ammo you get 3 knife slices per reload.
Kill zombies by shooting clicking on them and shooting them.
Each butllet has a damage value represented by the number next to it. Each zombie has a health value also represented by the number next to it. You can use any bullet on any zombie. When a zombies life hits 0 or below it dies. You can only damage zombies in the front of the row (except when using grenades)
You get 75 points per damage point you do to a zombie. Getting a skill kill gives you a slot machine spin that gives you a bonus. You get skill kills by killing a zombie with exactly enough hit points (example : your bullet say 3 and the zombie has a 3 on it.. you kill it exactly) blood/slime will splash out and the slot reels will spin.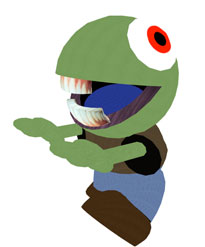 Special Items In The Clip
Chainsaw : gives you an automatic skill kill on any zombie killing them automatically.

Grenade : An extremely rare item that destroys any vertical row of zombies - will only show up if
you have bullets and only after atleast 10 clips(rounds) and only gives you 1000 points.

The slot progressive jackpot raises every time its spun.
Slot outcomes
3 Cherrys = 500pts
3 Bars = 1000 Points
3 Single Gun Clip = 1 clip
3 Double Gun Clips = 2 clips
3 Red Bullets = Full Reload of Super Bullets
3 Zombies = Next wave of zombies all have 8 hit points
3 7s = Win Progressive Jackpot
Every time a zombie goes beyond the 5th row you gain 1 damage. After 3 zombies have passed you are dead and the game is over.